Code of conduct
The Bristol and Bath Railway Path is a shared space to be used by pedestrians, disabled people and cyclists with consideration for all.
Everyone has equal priority.
Cyclists - please pass pedestrians and disabled people slowly and carefully, and warn them by bell or voice if they haven't seen you.
For safety, please ensure that young children are supervised and dogs are kept under control.
Please only use official access points onto the Path to avoid erosion and damage to nature.
Keep visible at dusk or night with lights or light coloured clothing.
Motorbikes are not allowed.

Welcome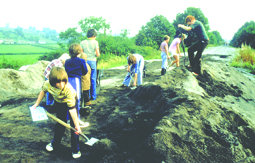 The Bristol & Bath Railway Path was constructed on the bed of the former Midland Railway by cycling charity
Sustrans
between 1979 and 1986. The first stretch was between Bath and Bitton where the campaign group, Cyclebag obtained planning permission to create the 2m wide dust track. The route then developed westwards with Bristol being the last section. This was tarmaced from the outset.
Today, the Path is a 3m wide tarmaced surface from end to end and an attractive leisure and commuting route. The Path is also an important wildlife corridor. Discover some fascinating history, visit intriguing places nearby, connect to other walks and trails and refresh yourself at several points along the way.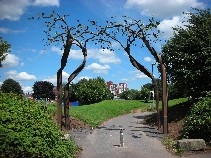 The Railway Path begins in central Bristol and loops north towards Fishponds. The Path continues through Staple Hill Tunnel, which is lit from 5am to 8.30pm. The Path then emerges into South Gloucestershire passing through Mangotsfield, Warmley and Bitton. The last stretch traverses through the Bath & North East Somerset countryside, passing through Saltford before reaching Newbridge, in Bath. There is also a spur off the Path at Mangotsfield which follows the line of the old railway through Shortwood and up to Coxgrove Hill (just west of Pucklechurch).
Today the Path is owned by
Bristol City Council
,
South Gloucestershire Council
and
Bath & North East Somerset Council
. Some small sections are owned by Sustrans. The work of maintaining and developing the Path is supported by dedicated volunteers and is co-ordinated through the Avon Frome Partnership.
The Path now carries at least one million trips a year. Find out more about the railway, and the areas the Path travels through, on the eight pairs of interpretation boards along the way.
If you have any questions, would like to get involved, want a Path leaflet or Path Access Guide please
email
or call: (0117) 922 4325. Leaflets are also available from libraries and council offices. Copies are also available in audio tape, braille and disk.
Please
pass on
any other top tips to future trailblazers.