Map 7 – Saltford
This attractive village may be named after the salty tidal waters of the River Avon that could once be forded. Nobody knows, but the locality certainly yields evidence of many early settlements. A nearby road was built by Romans and medieval monks lived here and at Keynsham. The river made steady industrial development possible. Several mills stood on the riverbanks and over the centuries a variety of small-scale commercial activity has thrived.
The first barrow of stone to create the Path was dumped on Saltford Bridge in 1979. This new idea of creating traffic-free routes spawned Sustrans, the charity that has since created a national network of 8000 miles of such routes.
Saltford to Bath (Brassmill Lane): 3 miles (5 kms)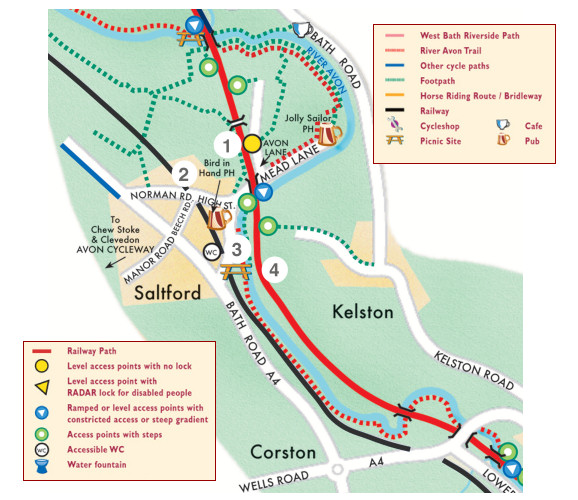 1.
Two fish ponds are said to have been tended by medieval monks from nearby Saltford Manor (privately owned). To visit the ponds, leave Path at metal gate turning left onto Avon Lane. Take first left onto track over Path, go left into field on footpath and cross footbridge. The ponds are ahead on your left.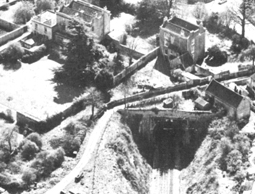 2.
(left) Tunnel House Hotel. This building stands above Saltford tunnel. It was built to carry the Great Western Railway's Bristol to Paddington line.
3.
Saltford Brass Mill – the best remaining example of a group of 18th century mills. Find out more by visiting:
www.brassmill.com
4.
Site of former Kelston Station.
You can also enjoy a break at the 18th century inn that was once a paper mill and that still stands beside the river – or visit the inn beside the Path that served the men who built the Midland Railway.
Connecting Trail
Download a guidebook to the route from the
River Avon Trail
website which can be accessed at Saltford. This 23 mile trail is enjoyed by walkers, and in some sections, cyclists and horseriders.