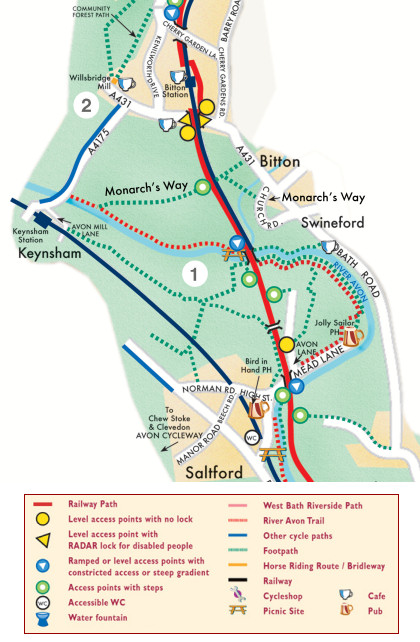 Map 6 – Bitton
Bitton to Saltford:
2 miles (3 kms)
The complete closure of the Midland Railway line in 1971 meant the rapid decline of Bitton Station. The building, constructed from local Pennant stone fell into decay and the track was removed.
Through the steady determination of volunteers and with support from an interested public, the Avon Valley Railway has restored the station to its former glory, re-laid track and restored several steam locomotives and many more carriages and wagons.
Thanks to these volunteers, the track and platform, 'Avon Riverside' opened in 2004 and allows passengers and users of the Railway Path to enjoy the riverside and a picnic area that cars cannot reach. A landing stage allows boats to moor and visitors to amble in the scenic Avon Valley countryside.
At Bitton there are plans to develop a museum with educational and other facilities.
1.
Avon Valley Country Park has been developed for people to enjoy the beautiful valley and River Avon setting. The Park offers boat rides, children's activities and information about local wildlife. Find the Park at Pixash Lane off the main Bristol to Bath Road between Keynsham and Saltford. For details of opening times, charges and facilities phone (0117) 986 4929 or visit:
www.avonvalleycountrypark.co.uk
2.
Willsbridge Valley is an oasis of wildlife and well worth exploring.
Connecting Path
Between the Path and the mill is the site of the old California Colliery (1876 - 1904) and the impressive embankments, cuttings and former tunnel of The Dramway – the Avon & Gloucestershire Railway. The way-marked Dramway runs from Bitton to Coxgrove Hill.
Facilities
Avon Valley Railway run a cafe, toilets, bike and vehicle parking at Bitton Station. It is also possible to take a steam train ride (wheelchair accessible) most Saturdays, Sundays and Bank holidays. For more info visit their
website
or call: (0117) 929 0888.