Map 1 – St Philips
If you begin your journey in Bristol, the Path starts in the Old Market area, a short distance from Temple Meads Station. The market had disappeared by the 19th century but the area continued to be a thriving commercial centre with its own shops, inns, pubs, eating houses and even a music hall. Old Market was home and workplace to many different tradespeople and artisans. World War II changed the appearance of the area as Bristol took its share of bombing and subsequent re-development. The area is now undergoing regeneration with specialist shops and much-needed restoration.
Bristol City Centre to St Philips Road: 1 mile (1.5 kms)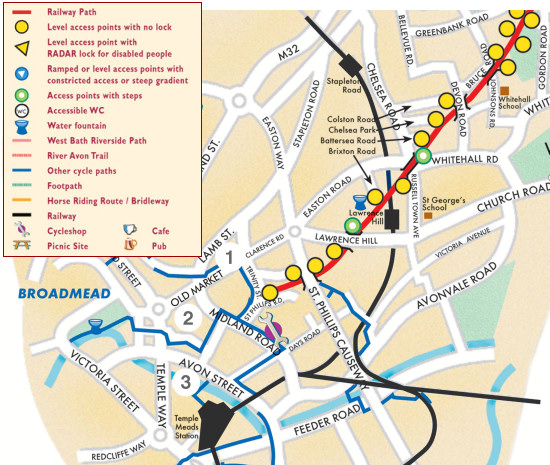 1.
The 'Gin Palace' pub is famous for its sloping floor. The grand style with decorative sculpted stone work betrays yesterday's dashed hopes for a major railway station in the St Philip's area.
2.
The Barstaple Alms houses – a 19th century medieval fantasy.
3.
The cycle and pedestrian bridge across the Floating Harbour – a new link to St Philip's.