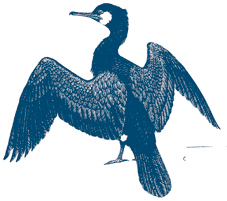 Wildlife
In the days of steam trains, sparks and hot cinders could easily set alight the dry grass and shrubs that lined the route. For this reason, vegetation was cut back regularly by the railway companies. This regime also encouraged the grasses and wildflowers that you would find on grazed heathland or meadows. The trackside areas have matured and they remain important green corridors allowing wildilfe to flourish and penetrate deep into the heart of the now densely developed urban areas.
You will see many brambles in the railway corridor, especially around the Bitton area. The bushes provide shelter for field mice, hedgehogs and other mammals. The flowers are an important food source both for butterflies and birds who will disperse the seeds.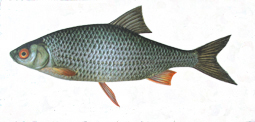 In the Saltford area, look out for woodpeckers, cormorants (above), kingfishers and herons.
The bankside greater dodder can be found. Roach, bream and gudgeon are some of the most plentiful fish in the River Avon.
Daubenton's bat is most likely to be seen along tree-lined sections and sheltered reaches of the river where water flow is least turbulent. This allows a clearer surface against which to pick up midges.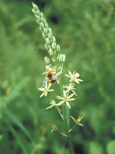 The Emerald Damselfly and Brown Hawker dragonfly can be seen in this area.
It is said that the stationmaster's garden at Kelston Station was particularly well-tended. Plants that escaped onto the Path from their domestic beginnings include Golden Rod, Everlasting Pea, Michaelmas Daisy and Lilac. They have merged with wildflower species found in this section of the Path.
The nationally rare plant Bath asparagus (right) is actually more commonly found in the Hanham area despite its name. In the past this plant was known as Poor man's asparagus and formed part of many a poor person's diet.